Web Hosting Plans
Jumeirah Star IT offers professional web hosting on the most powerful and stable Linux platform. With us, your web site will be up and running 24 hours a day, 365 days a year (99.9% downtime free).
Hosting plan comparison:
Hosting plan details
Business
Corporate
Price per month (AED)
100*
150*
Setup fee (AED)
250
350
Disk space
1000 Mb
2000 Mb
E-mail accounts
20
40
Anti-Spam protection
Yes
Yes
E-mail autoresponders
Unlimited
Unlimited
Anonymous FTP access
Yes
Yes
Daily statistic
Yes
Yes
Automated tasks with cron
Yes
Yes
Microsoft® FrontPage® support
Yes
Yes
Custom CGI
Yes
Yes
SSI
Yes
Yes
Password protection
Yes
Yes
Perl version
5.8.8
PHP version
5.2.9
MySQL version
5.0.67
Digital SSL Certificate
Add-on
Add-on
*Payments in advance (min. 12 month)
Software package library
Yes
Yes
[an error occurred while processing this directive]

Did you know that... by subscribing to our mailing list, you will be the first to receive the latest news about our project.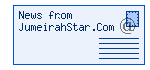 Poll

Is our website being updated often enough? (votes: 104)
Yes, everything's great!

23 (22%)

Could be updated more often

38 (36%)

No, not often enough

18 (17%)

It's not being updated at all

25 (24%)

April 2009
Mo
6
13
20
27
Tu
7
14
21
28
We
1
8
15
22
29
Th
2
9
16
23
30
Fr
3
10
17
24
Sa
4
11
18
25
Su
5
12
19
26